at Way Public Library
Winter, 2021
Way Library is pleased to announce that we will be hosting a mindfulness coach-in-residence in winter, 2021.  Dr. Deborah Hendricks, Director and Mindfulness Coach for the Pre-Health Advising Center at the University of Toledo, will share her expertise with the community by conducting four interactive workshops via Zoom as well as curating resources for mindfulness. 
Join us for these fascinating programs via Zoom:
Welcome and Introduction to Mindfulness – January 25th, 7 pm
Awareness of the Breath and Gratitude Exercises – February 9th, 7 pm
Awareness of Emotions and Loving Kindness Exercises – February 25th, 7 pm
Deep Dive and Q & A – March 10th, 7 pm
---

Guided Breathing Exercises
NEW, February 12th - Dr. Hendricks has provided another guided breathing exercise for you to follow along with (6-minutes); Listen below!
Below is the first guided breathing exercise (5-minutes):
---
This series will offer a basic overview to introduce participants to the practice of mindfulness meditation. During each virtual session, there will be an information session, opportunities to engage in guided exercises, breakout rooms to allow small groups to share, and a time for Q & A. These sessions are highly participatory, and it is recommended that cameras stay on to promote a strong sense of community.
Dr. Deborah Hendricks serves as director and mindfulness coach for the Pre-Health Advising Center at The University of Toledo. She made mindfulness the subject of her dissertation and research focus while working on her doctorate of education in Leadership Studies at Bowling Green State University. She is a Certified Family Life Educator (CFLE) and a Certified Appreciative Administrator. She enjoys speaking and presenting virtually, regionally, and nationally on mindfulness. In her free time, she loves biking, kayaking, and walks with her better half and two dogs in the Metroparks.
Registration is required for each program and the Zoom link will be sent to you at least 12 hours before the discussion.  Registration closes 12 hours before the start of the program. Register online at waylibrary.info or by calling (419)874-3135, x119. 
at Way Public Library
Winter, 2020
This winter, thanks to funding from Way Public Library Foundation & Friends, Way Library will be hosting an artist-in-residence. Local artist Robert Vanitvelt will share his art with the community by presenting three programs and also holding monthly office hours at the library. Join us for these fascinating programs:
January 25th, 2020 at 10 am – Family Art Workshop
February 18th, 2020 at 6 pm – Painting Demo
March 2nd, 2020 at 6 pm – Painting Demo
Mr. Vanitvelt will also hold office hours from January through March. During these times you can drop in with questions or a piece of art that you've been working on.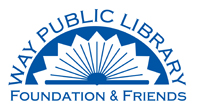 Mr. Vanitvelt was born in Flint, Michigan. He is self-taught artist and uses everyday unconventional items to create his art. His work has been shown in Michigan, Florida, California, and Ohio, including a solo show at the Diane Kidd Art Gallery at Tiffin University.
at Way Public Library
Fall, 2019
This fall, Way Library will be hosting a musicologist-in-residence. BGSU musicologist Ryan Ebright has written for the New York Times and NewMusicBox, and his work appears in various scholarly publications. A dedicated public scholar, Dr. Ebright in the 2018-2019 season appeared with the Los Angeles Philharmonic, Toledo Symphony, WGTE Public Media, and Way Public Library. He is working on a book titled Making American Opera after "Einstein," which centers on the efforts of artists and institutions from the 1980s to the present to redefine what American opera is and how we experience it.
Dr. Ebright will hold office hours at Way from September through November. This is a great way to receive some one-on-one mentoring from an expert. During office hours, you are welcome to drop in with a piece of music to discuss or a writing project that you're working on. You can also ask Dr. Ebright about higher education, performance, public speaking and writing, research/writing history, and anything music related. Office hours are currently scheduled for:
Thursday, October 3rd, 2019 from 4-7 pm
Saturday, October 26th, 2019 from 2-4 pm
Thursday, November 7th, 2019 from 4-7 pm
Saturday, November 23rd will feature a special pre-opera talk at 11:30 am at the library and then attendees are welcome to meet at Fallen Timbers to see the MetHD simulcast of Philip Glass's opera Akhnaten at 12:55pm. You must purchase your own tickets for the screening and provide your own transportation to the theatre.
Dr. Ebright will also have several programs at Way from September through November. 
October 1st, 2019 @ 7 pm – The Music of Video Games
November 2nd, 2019 @ 7 pm – Musical Performance
December 7th, 2019 @ 10 am – Musical Modernist Tour and Instrument Petting Zoo (family program)
The Musicologist-in-Residence program is supported by funding from Way Public Library Foundation & Friends.